CENTRAL AXIS TILTING FURNACE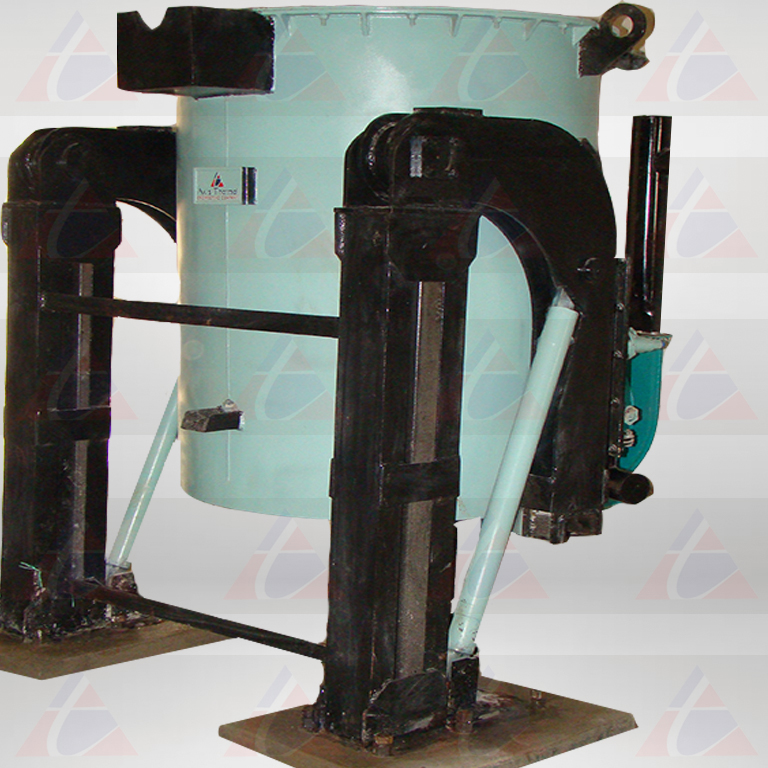 CENTRAL AXIS TILTING FURNACE
CENTRAL AXIS TILTING FURNACES are supplied as complete refractory line packages with blower, burner and crucible (not guaranteed). The durable body is constructed from thick reinforced steel plates and supported on a stand by turnnions which move on a anti-friction bearings. A graphite crucible and stand are providing, along with the muffle ring and cover for top of the crucible. (Depending on the size and client's option).
A Side mounted tilting gear arrangement with a large hand wheel allows easy manual operation (motorized & hydraulic tilting with inching facility available).
The furnace is fitted with Axis self propotionating Oil/Gas burner. Preheated oil at content pressures is supplied by a Axis pumping and heating system. Combustion air will be supplied by Axis centrifugal air blower to burner.
The burner fires tangentially inside the shell lining into a circular combustion spaces so that the hot gases surround the crucible, ensuring uniform heating. Waste gases pass out through a flue at one side, allowing reasonable working conditions for the operator. Normally the flue discharge is upward for top exhaust. Optionally, waste gases collected in a fume extraction hood for discharge outside the production area.
Oil service tank
Out flow heater
Semi rotory pump for oil tank
Fume extraction unit
HIGHLIGHTS

Rugged Construction
Efficient Heat Transfer
Easy to operate & maintain


Fitted with Axis Highly acclaimed combustion system
Excellent fuel economy
Axis quality built into every machine
PERFORMANCE DATA FOR GUN METAL

FURNACE MODEL
tt - 2
tt - 4
tt - 6
tt - 10
tt - 20
NOMINAL CHARGE CAPACITY in kg
100
200
300
500
1000
APPROXMELTING TIME FROMCOLD
120
120
120
120
120
APPROXMELTING TIME FOR SUBSEQUENT CHARGE
90
90
90
90
90
OIL CONSUMPTION FOR SUBSEQUENT HEAT Litres per 100 kg of metal
20-25
20-25
20-25
20-25
20-25
SPOUTED CRUCIBLE
TP-162
TP-400
TP-600
TP-89
TP-412
PERFORMANCE DATA FOR ALUMINIUM

FURNACE MODEL
tt - 2
tt - 4
tt - 6
tt - 10
tt - 20
NOMINAL CHARGE CAPACITY in kg
30
66
100
150
300
APPROX MELTING TIME FROM COLD
120
120
120
120
120
APPROXMELTING TIME FOR SUBSEQUENT CHARGE
90
90
90
90
90
OIL CONSUMPTION FOR SUBSEQUENT HEAT Litres per 100kg of metal
20-25
20-25
20-25
20-25
20-25
SPOUTED CRUCIBLE
TP-162
TP-400
TP-600
TP-89
TP-412