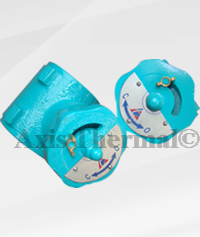 Throttling Air Valves-2211 features a knurled knob locking device that prevents accidental shifting of valve setting. It is easily released, then re-locked, if a new setting is desired. To discourage un authorized tampering with the valve setting, the knob can be released with a socket head screw as the locking device. The socket head screw is conveniently supplied in the side of the knob.
Valves can be used on gas as well as air. The locking device makes them advantageous as max set gas valves, often referable to fixed orifices, which are difficult to select in advance or change in the field.
Beveled discs minimize leakage through the valve in the closed position. Maximum pressure is 15psig, maximum temperature 200oC. For fluid temperatures up to 350oC a 2211-H "Hi-Temp" model is available.
In most cases, a 2211 throttling air valve should be the same pipe size as the burner connection it serves and/or other items in the line. If valve capacity is critical, reducing fittings could create enough additional pressure drops to cause a problem.
Valve bodies are sturdy, thick-walled iron castings, short in length to facilitate piping. Threads or flanges are carefully machined to provide accurate alignment of valve throat with the piping.
The 3″, 4″, and 6″ valves are offered with either threaded or flanged connections. Flanged valves match ANSI 125 psi and are designated 2211-F. Use flat face companion flanges and full face gaskets when installing this equipment. Raised face flanges may damage the valve body.